Lake Konigssee is a beautiful place to get lost. With creative juices flowing, I tried to combine two of my favourite things. Writing rhyming poetry and travelling savouring nature.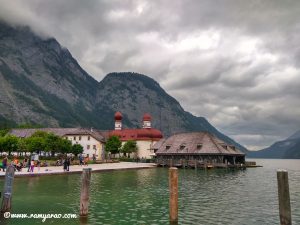 Here goes the poem:
Sparkling under the sun,
with the ducks, playing and having fun.
The gorgeous Alpine Lake she is,
At times I see her fizz.
Daughter of the glaciers,
Undefeated with no chasers.
Crystal clear and deep,
I wonder if you ever sleep?
Crowned by mighty falls and Alps,
with shining snowy scalps.
I walked devouring the beauty,
and loved all of it like it was my duty.
It poured from heavens above,
droplets fell like it was whispers of love.
Oh mighty lake, I hope to meet you again,
someday again when it will rain.