"Your hand and your mouth agreed many years ago that, as far as chocolate is concerned, there is no need to involve your brain."

― Dave Barry
This quote sums up my relationship with chocolates. I read the nutrition label carefully when it comes to buying packaged products.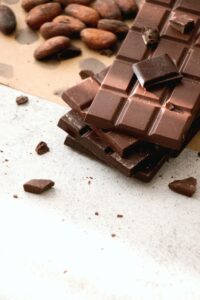 Photo by Tetiana Bykovets on Unsplash
In my efforts to lead a healthy and sustainable lifestyle I avoid packaged food as much as possible and have not consumed white sugar in a long time. But chocolate is a weakness, and I give myself the permission to indulge and luxuriously so. Dark chocolates are the preferred ones, I prefer the bitter ones with great flavor. 
Having tasted a variety of chocolates in Europe, thanks to the interest shared by the husband, we have had an amazing chocolate experience. Be it chocolate bars or chocolate drinks. 
With the pandemic, our stash of chocolates was over the last year and, I was constantly on the look for brands that produce good quality, vegan and less sugar /sugar-free dark chocolate bars. 
In my attempt to go vegan, I have been seeing to it that I consume Vegan chocolates only and, I am also not a big fan of milk chocolates. 
Here I am listing three new emerging brands of chocolate that I loved and among the many, I tried this year. 
The brand aims at a sustainable business model with zero wastage and zero impact on the environment.
The team sent over these variants:
No additional flavoring (vanilla) is added and it made a difference in the taste because we are so used to it. The chocolates are gluten-free, soy-free, refined sugar-free, and preservative-free. Making the chocolates keto and PCOS-friendly. 
This may sound like a lot of frees but these are some ingredients in most of the packaged products that we consume.
I loved the bitterness, texture, and flavor of the chocolate. The sugar content is on the lower end and, the chocolate melts in the mouth. 
If you don't prefer dark chocolates, the 48% milk chocolate is a good choice. 
But I must warn you that they taste differently and, it is not to be compared to Diary Milk simply because of its ingredients, value for health, and the chocolate bar-making process. 
I came across them when shopping for groceries from Big Basket and purchased their Intense Dark 75% because the sugar content was on the lower end. We fell in love with chocolate. The Mint, Roasted almond, and the dark wicked 85% chocolate are some of the other variants I tried and liked all of them. 
The chocolate bars are vegan, smooth and the texture almost matches the taste of the chocolates we had in Europe.  They are keto and PCOS-friendly as well. 
I use them in my oats and cakes occasionally or eat two pieces as a mid-morning snack.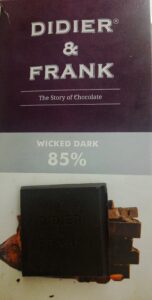 You can buy them on Big Basket, Amazon, or on their website. If you are a lover of Lindt chocolates, I suggest you buy their chocolate bar and relish. The almonds and the hazelnuts are perfectly roasted and the crunch with a hint of sea salt and dark chocolate is heaven. 
For a long time, bars of Keto Culture was at home because it helped me with my low-calorie diet. The chocolate bars are sugar-free dark chocolate and use the finest Indian organic cacao, cocoa butter, and natural zero-calorie sweetener. 
This stevia-based chocolate bar has a different texture than other chocolates and does have a slight aftertaste. They are keto, PCOS, and diabetic friendly. They use erythritol and stevia which you can taste in the chocolate.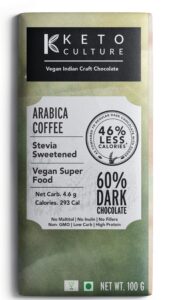 Of the many variants, I have tried. I loved the Arabica coffee and Roasted hazelnut the most. Additionally, I would suggest you don't buy Himalayan Pink Salt Vegan Dark Chocolate because it just tastes like 60% dark chocolate and nothing more. 
After trying many chocolate bars that suited my budget, diet, and taste I have made this list. There are many more that are there in the market which I have tasted and a few more which I haven't. In the coming posts, I will share some sustainable and vegan brands I have tried in my journey towards veganism, sustainability, and minimalism. I would love to know more chocolate brands that you would like me to try. 
While I grab a vegan, mouth-watering piece of dark chocolate, I would love to know about a small business or a sustainable brand that you recommend.