My mother speaks loudly. She is talkative and voice very powerful .  My father on the other hand modulates his voice based on the situation. His voice is well balanced I must say. Low when on phone and high when he is angry.
My mother always wanted my brother and me to have a well-balanced  voice like our dad. When I was in school she was so happy that my voice was was not loud like hers. She thought my voice was perfect. But my mother's dreams came down crashing because the two of us took over her. My volume naturally goes high  when I am talking about things that  excite me  and my brother is loud always. I don't know if she is more disappointed about the fact that we speak loudly or that we  don't  realize it. I thought speaking loudly is a boon.
My father used to do that when I was pursuing my engineering and I stopped talking to him about my college and new friends because he was more concerned about my voice. His concern was about what the other person going in the road may think if they heard me. I wanted my dad to listen to me first and then tell me about how to modulate my voice.  Gradually, my mother supported me because she understood my point.
My mom would listen to me patiently and then tell me I was very loud and I should reduce my volume, it doesn't look good in public places she said. She wanted me to learn from people who spoke on the mic with their ear phones, the ones who talk like they are on a secret mission of assassinating the nation right under people's nose and doesn't want any body to know. Dead silence. You can only see their lips move. She asked me to be the person I am not. She was being unreasonable and she knew that.
When I think back , I realized she must have faced some bad and embarrassing situations because of her loud voice and hence the concern. Someone once told me that mothers are always right. But this was not the end of the story. A colleague kept on telling me about my loud voice like I already did not know about it. I started talking in a hushed tone and then my dad started complaining he couldn't hear me talking.
So previously and also now I am loud but also not audible as well. I am writing this post not because of what my dad thinks, it is just his way of raising his daughter. Just that if you are loud you will be told you are too loud and if you have a sweet and low voice you will be told to be loud. The world only sees things that a person doesn't have, it is their way of  showing how jealous and insecure they are.
I am glad I don't need a Mic when I am on stage and I am proud about it. Are you the loud one or the  being prodded to be one?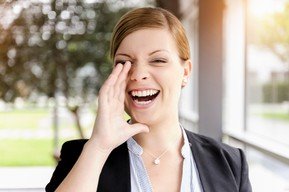 Linking this post to DAY 11 of #HalfMarathon by Blogchatter