"I'm a man of simple tastes. I'm always satisfied with the best."― Oscar Wilde
Today, everything is fast-paced – life and lifestyle. Most of us today are like Oscar Wilde. We want the best, and also it needs to be affordable. With the changing trends in fashion, quick-paced lifestyle and our increased need for materialistic things and to keep life de-cluttered one must buy smartly as binge buying could get highly expensive.
When EMIs came into the lives of people, it was such a relief. It was better to pay in a smaller chunk with premium than paying the entire lump sum amount. Unknowingly or with full knowledge we are in debt for longer periods, buying things we probably don't need after some time. The product is probably no longer needed and out of fashion, but you are still paying for it.
I attended an event on 2nd of Feb by Rentomojo. RentoMojo, India's leading consumer leasing company, founded in 2014, started as a rental business and has evolved as a fintech model where the customers can lease furniture, appliances and two-wheelers by paying an extremely affordable RMI (Rental Monthly Installment). The RMI is far better than the EMI that we shell out.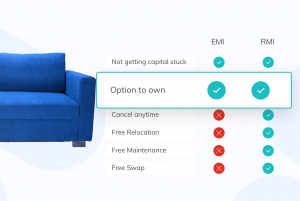 Here's why:
1. RMI is the new EMI
Often we buy more than required and keep paying the EMI for it even after the product is no longer in use. Rentomojo gives you an option to buy things on rent for the duration you want, maximum being 3 years.
2. Zero Maintenance and Relocation Charges
Are you moving from Chennai to Bangalore for work? Worry not, you rent a house and Rentomojo will help you set up your home. From house decor to a bike you may need to commute within the city, it offers it all at the click of a button.
3. The Urban Saviour-SmartlyOwn
You want to keep up with the current home interior and decor trends and want to wrap it in your budget? Rent it for a few months. Don't like it anymore? Return it. Loved it? Use the amazing new proposition by Rentomojo: RentToOwn. Buy off the item you loved!
4. Get it Replaced if Unhappy
Rentomojo gives you the opportunity to return the product the item you ordered for rent if you feel it is not up to the mark or looks as promised, return it then and there.
5. Surprises – Things are Going to get Better and Bigger
With the new feature of RentToOwn, Rentomojo has taken a step forward and also as consumers, one has great opportunity to be on top of the trends by renting, returning or owning. There are some more surprises in store for us said the founder, Geetansh Bamania.
The RMI is much better than EMI. There are a lot of benefits that come along with RMI, which is not available with EMI. The flexibility and non-commitment to the products are one of the biggest and best of them.
They have a simple policy – use the products till you need and return when you don't. It often happens that we buy things that we may need for a short span of time and after a few months the item would be lying around unused. Rentomojo is the solution to your need. Given that we are moving from binge-buying to de-cluttering, classy and subtle style in home decor and most of the things we buy, I feel that Rentomojo helps you be well ahead in trends and also allows you to lead a balanced urban class style of living. Rentomojo considers renting as a financial decision.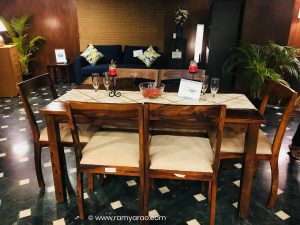 Do you choose to just own or smartly own? The choice is yours.