When I had started blogging, I never knew there were so many bloggers. I would just write, post , tag friends I knew offline and then go write again. And when your best friend is a blogger, seldom you think of any new friend. It wasn't forlorn but it certainly was tough because I don't have the habit of asking for help especially to a best friend.
And after months I slowly began making friends, started searching for communities and that is when I made friends with Indiblogger. The network there was amazing. As my blog came into full shape and being slowly and steadily I was drawn into communities that I love being a part of.
Indiblogger has the reputation of conducting amazing meets. Circumstances have forced me to miss amazing and informative meets time and again. When I got an invite to this meet, I wanted to make it no matter what. Mainly because I wanted to meet the friends I had made online, have fun , make memories and find a solution to paint my house without troubling my poor lungs.
I know Asian Paints does a fabulous job with respect to the quality of paints and the life of it but it wasn't quick or dust free. It was the same mess that took a toll on our health, and I hoped BergerXP painting could bring in some relief.
The event started with saying hi, hello and hugging the people I have known online. There is a very good feeling when you are introduced to a person as a whole. Blogs tell you innermost things and when you meet the person who made a difference in your day is one indescribable feeling.
After a not so good lunch and amazing conversations, we settled down tweeting and .posting updates. Or so we thought. We had a fun balloon activity that kicked out our post lunch blues.
This was followed by Chandranath Banerjee from Berger Paints India briefing us on the history of the company and how they were the 2nd biggest player in the Industry. We realized how Berger thrives on innovation. Their cutting edge technology has now made painting an enjoyable experience.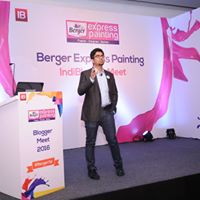 Berger Express Paint with the motto of faster cleaner and better has achieved it with tools designed to specifically make the process of painting faster and hassle-free, They claim it to be 40 percent faster than traditional painting with trained painters for efficient and better painting and with our no-mess tools! Cutting-edge vacuum suction-enabled sanding machines being my favorite for it helps to keep house dust-free!
After a sandpaper rubbing session where we got to get our hands dirty and make better friends we were given a crash course on the painting basics and were given a canvas, painting essentials and themes to paint. Our team chose to paint Colors of India and we had so much fun that the painting looked childlike, just like we all are, in our heart.
After a tea break and prizes announced, we had more pictures to click and many more memories to make. The Saturday that went by certainly was one of the best Saturdays of the year.
If you want your home to be painted, you could visit their website or SMS XP to 56767and get one of their executives to help you make your house look the way you would love it to and hassle free.