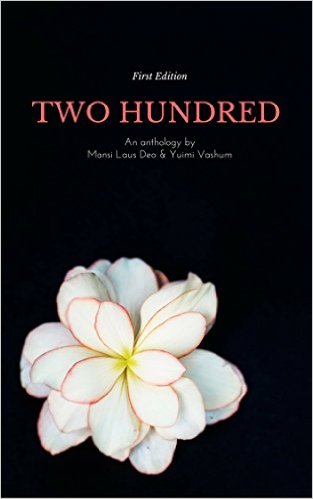 Genre:Fiction-Anthology
No. of Pages: 16
Publisher:Self-Published
Two Hundred is 
an anthology by
 Mansi
 and
Yuimi
. Two Hundred is a collection of terribly short stories.
The cover and the entire design of the book is pleasant and well-designed. The anthology is well curated and is a good read. Two Hundred is the right book if  you like reading terribly tiny tales.
The book has powerful  two liners. The stories are  spooky, funny and twisted, mostly amusing. You would chuckle and make a grave face the next minute. Such is the type of the book. A powerful punch in few words.
I read the book in one go. You can finish reading this in ten to twenty minutes.  Few tales are so deep that you will  read them twice, maybe thrice. Most of the tales are dark and twisted.
The book has  twelve beautifully designed and well written pages. The tales are more of reality than fiction. Tales of love, relationships and society I see in the fiction. The stories have a twist every time, which make few stories predicable.
All in all, I would suggest you to read it over a cup of hot ginger tea. After you relish the book, you can ponder over and enjoy the remaining tea, just don't turn back to expect a ghost. There wouldn't be any, it is  just your mum cleaning the room.
Rating: 4/5
You can download the book for free
here.
This post is a part of eBook carnival and Day 3 of #HalfMarathon by
Blogchatter
.